OFFICERS
Elizabeth Natter, Commodore
Matt Bontomasi, Vice Commodore
Brian Fromm, Rear Commodore
BOARD MEMBERS
Jim Callaghan
Sedona Cox
Duncan Currie
PC George (Buzz) Young
PC Leslie Wagner
––
Sheri Allor, Treasurer
Sharon Stellingwerf, Secretary
––
Joan Ferguson, Membership Chair
Sheila Tomkowiak, Website Administrator
Tamra Fromm, Website Editor
PAST COMMODORES
1960-61 Dr. Edward R. Stoliker
1962-63 Al Adams
1964 Wilfred Barbret
1965 Robert Drean
1966 Russell Davis, III
1967 Stanley Shanck
1968 Frank Voorwerk
1969 Alvan Turney
1970 Ralph Bower
1971 Francis M. Huxley
1972 Edward Hickey
1973 Dr. Milton Lipson
1974 Ralph Burton
1975 Bruce Reynolds
1976 Dr. Frank McGillen
1977 Eugene O'Brien, Jr.
1978 Clifford Crockford
1979 James Finney
1980 Arthur Behm
1981 Charles L. Howe
1982 Thomas Guthat
1983 Dr. William C. Quinlan, Jr.
1984 Dale N. Scrace
1985 Robert Green
1986 William Twiddy
1987 Charles Witzke
1988 John Henfrey Smith
1989 Philip Allor
1990 Crosby Boyd
1991 Edward L. Harrah
1992 Arthur Kainz
1993 John Onstwedder
1994 Greg Tisdale
1995 Kenneth Munn
1996 Danny Krease
1997 Larry A. Dowers
1998 Thomas C. Van Der Maas
1999 David Hohlfeldt
2000 Bruce Srupp
2001 Ronald J. Borghi
2002 Donald Smolenski
2003 Frank Stellingwerf
2004 Stephen L. Sholty
2005 Jane K. Davies
2006 John Popovich
2007 Sheila Young Tomkowiak
2008 Wayne Onstwedder
2009 James Grenda
2010 Anne Nyboer
2011 Linda Onstwedder
2012 Maj-Britt Black
2013 Phil Gilbert
2014 Chris Greiner
2015 Geoff Boynton
2016 Jason Merkel
2017 Donald Smolenski
2018 George (Buzz) Young
2019 Reggie Beckius
2020 Dale Cox
2021 Leslie Wagner
2022 Elizabeth Natter
Founded in 1959, The Grosse Pointe Boat Club is a boating and social club (sail and power) located in Neff Park in the City of Grosse Pointe. The family-oriented club operates out of a repurposed garage fondly nicknamed The Littlest Club. The club hosts a variety of events including parties at the park and in the Scrace Marina, weekend rendezvous at various points on Lake St. Clair, sailboat races, and an annual Christmas party and Commodore's Ball. We also offer annual safety inspections for boats in the marina.
Nothing will stop this crew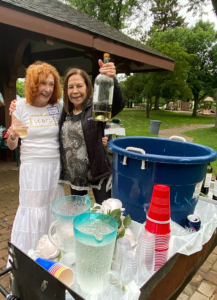 Neither wind, nor rain, nor bees shall dampen the fun for the GPBC club members who attended Greek Under the Stars event on Saturday, August 20, at The Littlest Club. Okay, maybe there were no stars, but a good time was had by all.
Thanks to PC Leslie Wagner and Gentleman Alan for hosting. Thanks to the many hands that helped them setup and cleanup. To name a few (and I am sure I will have missed some): Erik and Constance Wahab, Marcia Cron and Director Jim Callaghan, Veronica Greiner, Ronda Evola, Kathy Long, RC Brian and Tamra Fromm.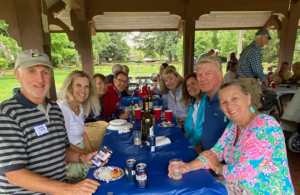 Although summer is winding down, GPBC fun is far from over. Next Wing Ding is The Kaiser Cup Regatta on Sunday, Sept. 11. Stay tuned for details.
— Commodore Liz Natter
Back-to-back festivities

It was another beautiful weekend in the neighborhood and the perfect setting for two back-to-back GPBC events: the Homeport Rendezvous on Saturday, July 9, and the Commodores' Breakfast on Sunday, July 10.
Hosted by PC Leslie Wagner, the Homeport Rendezvous was an informal gathering of members who came to the Littlest Club to picnic with their pals. Special thanks to PC Phil and Sheri Allor, PC Buzz Young and PC Sheila Tomkowiak, for diving in to help pull it all together at the last minute. Thanks too go to Connie Howe, Don and Paula Smolenski, Betsy Hohlfeldt, and a host of other members who helped set up and clean up on Saturday as well as help stage the clubhouse for Sunday morning.
At 7 a.m. Sunday the highly experienced Past Commodore crew swung into action, mixing pancakes, cracking eggs, and grilling up bacon and breakfast sausage. The PCs who donned club aprons included: PC/Host Leslie Wagner; PC Phil Allor; PC Dave Hohlfeldt; PC Don (the baconator) Smolenski; PC Frank Stellingwerf; PC Sheila Tomkowiak; PCs John, Wayne, and Linda Onstwedder; PC James Grenda; PC Buzz Young; and PC Dale Cox. Other hard workers included Bridge and Board Members Sheri (master organizer and the hardest working woman in the boat club) Allor, Matt Bontomasi, Duncan Currie, Brian Fromm, and Jim Callahagn. Special thanks for setup and cleanup help go to Veronica Greiner, Diane Currie, Betsy Hohlfeldt, and a host of others too numerous to name. By the time we closed up the clubhouse at 12:30, you never would have known that we had served a fabulous breakfast buffet and morning cocktails to more than 55 members.
Welcome new members: New members Sherry Gaines and son Eliot, and Lynne and Bernie Loperfido attended the weekend festivities. Other new members are: Julie and David Blake, Ed Rogers, Marshall Williams, and Karin Garrett.
In the pink: We were especially pleased to see Ken and Marty Casey at this event. We look forward to Ken's continued recovery following receipt of a new kidney.
Photos from the Commodores' breakfast are here.
Couldn't have asked for a better evening

A perfect day set the scene for the Summer Chow Down at the Littlest Club Saturday, June 18!
The Lobsterfest crew of PCs Davies, Onstwedders and Hohfeldt reunited after the long Covid-19 pause to whip up a delicious dinner featuring Linda's signature Caesar Salad, Dave's clam chowder and Wayne's incomparable grilled chicken. With grilled sausage/kraut, beans, cheesy potatoes, and corn on the cob added to the menu, we don't think anyone missed the lobster.
The club never looked more beautiful decked in striped tablecloths with flowers on every table. This year's event honored our late friend Steve Davies whose picture greeted us at the check-in table.
Lucky Lady Mickey Cox held the winning ticket for the 50/50 drawing and took home $135.
Seventy five members and friends attended the event. Many thanks to the co hosts PCs Linda and Wayne Onstwedder, PC Dave and Betsy Hohfeldt and PC Jane Davies for making the evening a smashing success and a fitting tribute to Steve. We were so lucky to be his friend.
Special thanks to the following members who also assisted in making this event special:
Don Beardsley – madras mixing, food prep, grilling, boiling, baking, serving and all the legwork in between.
Erik and Constance Wahib – check in
VC Matt and daughter Sofia Bontomasi – 50/50 drawing
More photos from the party are here.
Thanks to PC Buzz Young for taking all the great pictures for all our events.
Fitting Out Party Recap
The 2022 GPBC season, under the steady hand of Commodore Liz Natter, is off to a terrific start. The Fitting Out Party on May 14 was a great success with an activity-filled day and evening.
In the morning, PCs Don Smolenski and Dave Hohfeldt performed boat safety inspections. They gave several decals to boats that passed and guided others in what they need to do to earn a decal. And as we all understand, safety on the water is our top priority.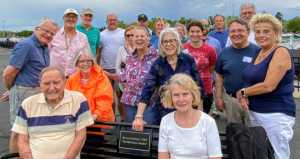 At 5 p.m., PC Buzz Young, assisted by Mayor/PC Sheila Tomkowiak and Race Committee Chair Jay Kaiser, unveiled two beautiful new park benches at the end of the pier that were purchased with generous donations from GPBC members. Both benches sport plaques thanking the donors. The bench that will be used by our Race Committee on Wednesday nights was completely funded by Sid and Al (The Old Cannon Whacker) LeChard. Jay's colorful remarks not only commended The Old Cannon Whacker for the bench, but mentioned his and Sid's colorful career at the end of the Pier on Wednesday nights.
The second bench was funded by members collective generosity (with the largest check coming from someone named Anomynous). All in all, GPBC members contributed a whopping $4,000 to help support the City of Grosse Pointe upgrade our beautiful Neff Park. If you didn't make it to the dedication, you might head down to the end of the pier and check them out. Or better yet, come down on race night beginning Wednesdays in June.
After the dedication, it was back to the clubhouse for the official Fitting Out Party featuring "the guilty pleasure buffet" of coney dogs, sliders and fried chicken. More than 60 members and their guests attended the event which doubled as a birthday party for Fast Eddie Benz who turned 89 (or was it 39?) featuring a cake, balloons and a chorus of good wishes.
In other event highlights, four new member were recruited, and Secretary Sheri Allor walked away with $100+ from the 50-50 drawing. The first time she has won in 40+ years of buying tickets.
Thanks go to the folks who helped Commodore Liz Natter with the event: VC Matt and Sofia Bontomasi, RC Brian Fromm, Director Sedona Cox, PC Buzz Young, PC Sheila Tomkowiak, Joyce Present, Erik and Constance Wahab, Mickey Cox, Lori McKutcheon, Chris Kaiser, Mary Scrace, and more. Commodore Liz also sent out special thanks to everyone who "hung their rosaries in the tree or did some special magic to keep the rain drops away."
More photos here.